Keeping vital information safe and secure should be a top priority of any business.  Corrupted/hacked files can cause enormous problems and can lead to important information being exposed or lost for good!  Don't let this happen to your business.  Stay proactive with our business IT solutions and stop worrying about losing your business's delicate information.
Stay up. Stay Running. Stay Protected.
No more losing sleep at night worrying about your business's protected information!  We will manage, update, refresh and optimize your technology for you.  As an owner, you have far too many things to worry about than losing your business's vital information.  Trust the pros who have 25+ years of experience to manage your information systems for you!
Whether you are looking to have your business or in home systems integrated, we have you covered.  With our systems integration services, we will come to your location and set everything up for you.  No need to worry about expensive travel fees, if you are close to us we don't charge a dime driving to your location!
Your Entire Network Working In Perfect Harmony
Our process always starts with consulting with you to figure out exactly what your goals are.  From there we will troubleshoot any issues you are currently having and find a solution to meet your specific goals.  The next step is to configure and install your solution and ensure the proper security measures have been taken to keep your information safe and secure. Your network is the foundation for your applications and it is crucial that it is solid, stable and secure.  With over 20 years of experience specializing in systems integrations, you can rest assured that our team has what it takes.
We have the skills to diagnose and repair even the most complex issues.  We can handle everything from software upgrades, to tune-ups, to repairing and replacing internal components such as hard drives, graphic boards, etc.  If you have a problem, the team here at Leopard Integrations can take care of it.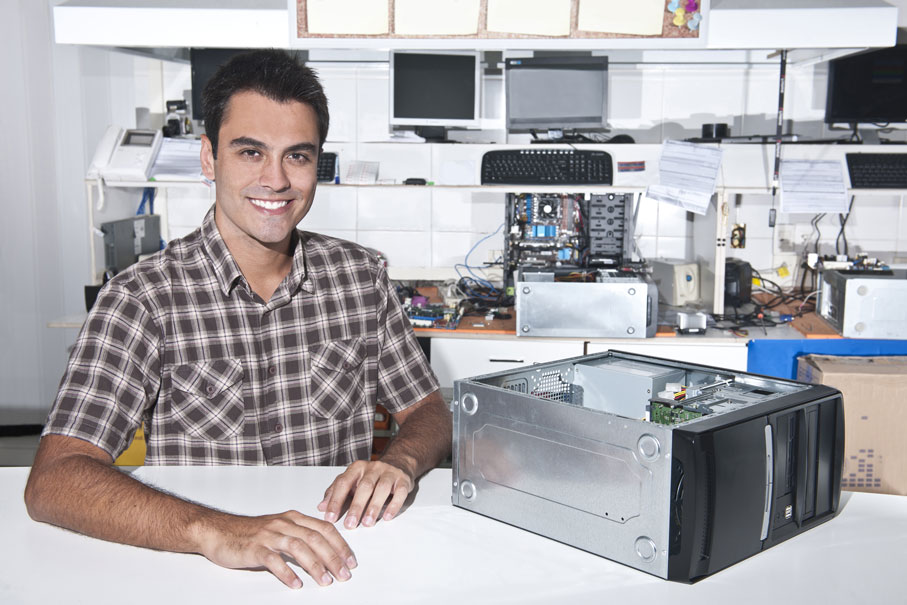 Desktop diagnostics & repair
Virus/malware/spyware removal
Hard drive repairs
Computer tune ups
Software upgrades
Printer, scanner, fax, etc. repairs
Computer fan replacement
Graphic card upgrades and replacements
Motherboard upgrades and replacements
Network card upgrades and replacements
Power supply upgrades and replacements
Ram upgrades and replacement
Card reader upgrades and replacements
Sound card upgrades and replacements
Laptop screen repairs
Mac protection software
Mac OS updates
Computer Problems Have You Frustrated?
Hardware Support
If your system is under warranty, the vendor will need to be contacted to diagnose the problem with some initial troubleshooting, then to set up warranty service.   You can work with the vendor yourself or contact us to work with your vendor for you.
Most computer manufacturer warranties are 3 years parts and labor with some portion covering on-site service.  Most vendors DO NOT cover re-loading operating systems or software.
If your system is out of warranty, we will be happy to diagnose the problem and obtain and install replacement parts.
Virus Support
If your computer is suddenly slow or acting weird you may have a virus or spyware.  Check your Antivirus program to see if it has been updating and has the most current virus definitions.  Run a scan on your local drive and repair or delete the infected files.
Most viruses and spyware can be successfully removed by current versions of antivirus software.  Sometimes reloading Windows or re-formatting the hard drive is necessary.  Call or e-mail us for assistance with your virus removal!
Software Support
Many software errors or problems can be resolved by restarting your computer.  If restarting does not resolve the issue, be sure to record the error or message.  You can call, fax or e-mail it to us for review.  We will contact you with phone support or to schedule an on-site visit.
We Are Here For You
We are here for you during each phase of your project and beyond, through our extensive consulting, installation, and support services
Consulting
Consulting
At Leopard Integrations we know the importance of listening and are skilled at designing exactly the right solution to suit the unique needs of each business we work with.
NEEDS ANALYSIS
•  Assist in identifying the technology challenge.
•  Listen to what you want the end result to be.
•  Provide one or more solutions to achieve those results.
•  Provide recommendations for additional solutions that would benefit your business.
•  Review competitor's quotes or solutions and provide recommendations.
DESIGN
•  New systems
•  Upgrade or improve existing systems
•  Modular designs – ready for expansion
We understand the importance of technology planning and we work closely with our customers to design networks that are not only cost-effective, but also are structured for growth and integration with new technology.
Installation

At Leopard Integrations, we continually update our education to bring our customers the most current technology information in the rapidly changing world of information technology.
NETWORK OPERATING SYSTEMS
•  Increase Productivity by sharing files, printers and more!
•  Microsoft® Partner Member
•  Local and Wide Area Networks
•  Peer-to-peer solutions for as few as two users!
•  Secure Networked Internet Access
SERVERS AND COMPUTERS
•  Designed specifically for business use
•  Tested and approved by Microsoft®
•  Acer Premier Reseller
•  Configuration
•  Repair
•  Upgrades
MOBILE COMPUTING
•  Remote access from home and on the road
•  Affordable Laptop Solutions
•  Wireless Access
PERIPHERALS
•  Printers and Print Servers
•  Wired & Wireless Routers & Switches
•  Scanners and Digital Imaging
•  Data Backup Solutions
•  CD-RW and DVD-RW
•  Flat Panel Monitors
SOFTWARE
•  Installation
•  Upgrades
•  Error Troubleshooting
Support
support
Leopard Integrations is ready to support your network to any degree necessary, from full administration to assistance for your IT staff.
ADMINISTRATION
•  Manage Users
•  Manage Backup Routines
•  Disaster Planning and Recovery
MAINTENANCE
•  Add or move computers and peripherals
•  Apply Updates and Upgrades
•  Laser Printer Tune-up
ON-SITE
•  Prompt service at your location
REMOTE
•  Remote access for administration or diagnosis
PHONE
•  Phone support for initial diagnosis or planning
PRIORITY EMERGENCY SERVICE
•  Immediate Emergency Call Return
•  2-4 Hour On-Site Response
So What Are You Waiting For?
Give us a call today to speak with one of our team members.